Thailand's southern province of Krabi caters to diverse tastes, with fabulous beaches, exciting rock climbing, and cultural hotspots. Here are some of Krabi's best attractions to add to your travel plans.
---
Khao Kanab Nam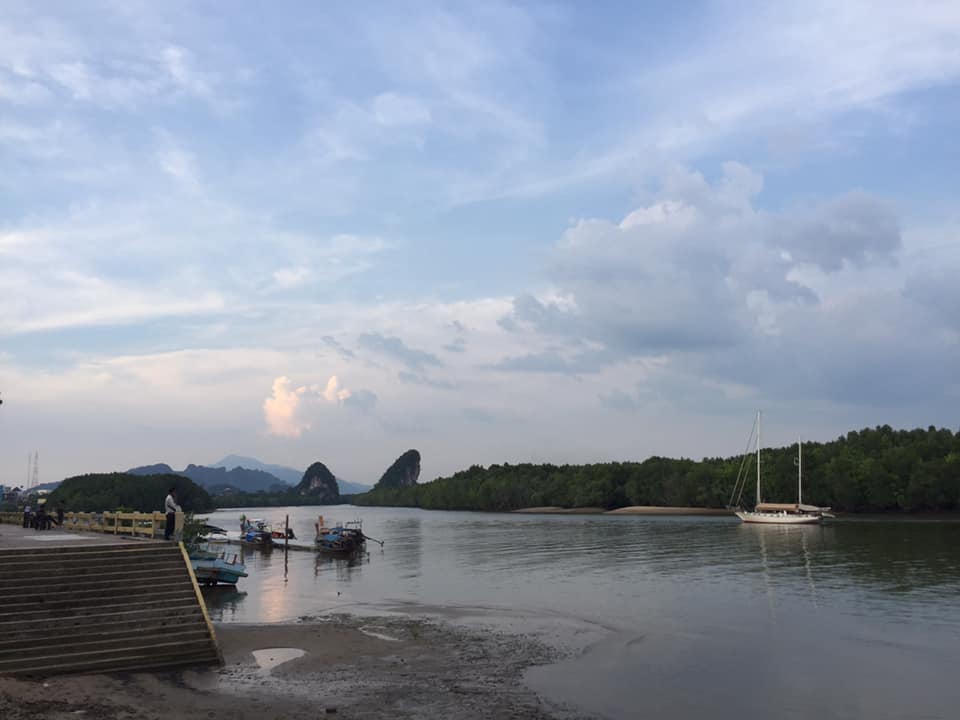 Distinctive mountains of Khao Khanab Nam in Krabi . The twin limestone mountains of Khao Khanab Nam are major local landmarks and one of the province's symbols. The mountains are split by a river and have several caves beneath them. Venture into the caves and admire interesting rock formations, then gaze up at the mighty mountains from ground level. The caves also hold a mystery: many skeletons were found here, with only speculation as to what caused these unfortunate souls' deaths. The remains are thought to date back to prehistoric times. It's possible to climb one of the mountains, with incredible views from the summit and a rocky overhang that attracts daredevils for dramatic Instagram photos.
---
Wat Tham Sua
Also known as the Tiger Cave Temple, local lore tells of a fearsome tiger that once called this cave home. Paw-like imprints in the rocks seem to support the legends. Surrounded by jungle, the network of caves is now filled with religious statues and shrines, and it's common to see saffron-clad monks praying throughout the caves. A revered Buddha footprint sits on top of the hill; be prepared to climb more than 1,200 steps to reach the peak! The sense of spirituality and glorious views across the island-studded Andaman Sea make the effort more than worth it.
---
Emeral Pool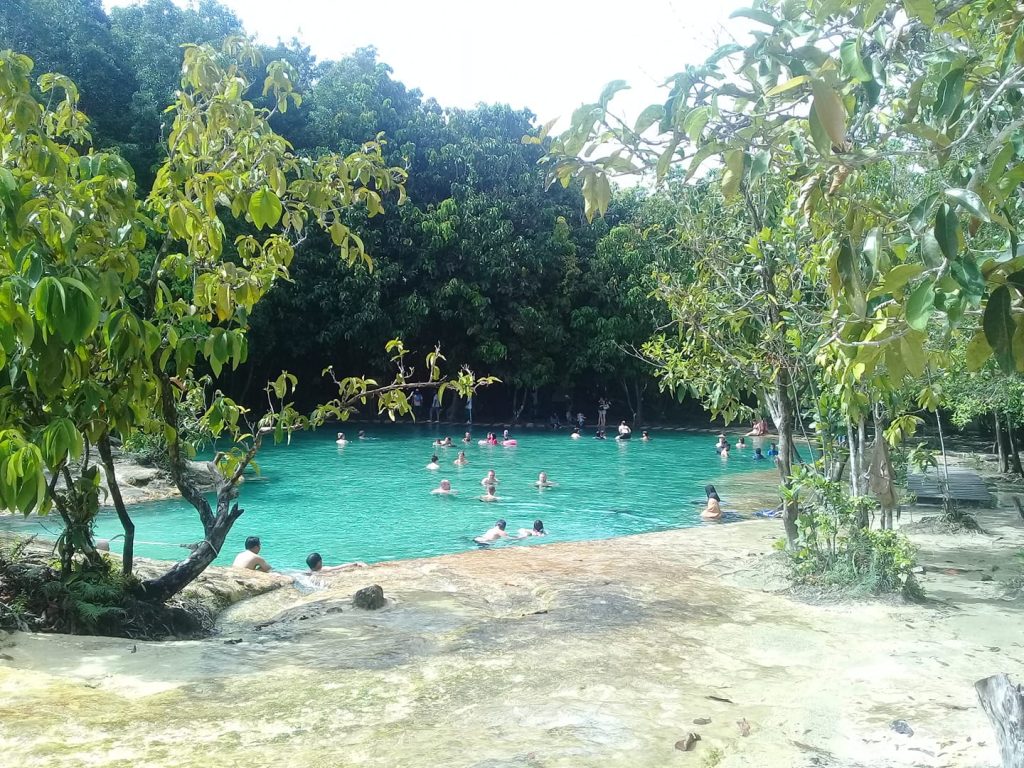 Krabi Emerald Pool (Sa Morakot) is a unique attraction in southern Thailand. Krabi is well-known for areas of outstanding natural beauty and one place that should make your must-see list is the Emerald Pool in the Thung Teao Forest Natural Park, an unusual lowland forest rich in bio-diversity, complete with a nature trail and a crystal pond.
Located in the Khao Pra-Bang Kram area, the nature trek is a superb place to spot rare animals and plant species including the Pitta Gurney bird which was once considered extinct. The forest is lush with age-old trees stretching up to the sky, unusual forest creatures and limestone foothills that open onto a dazzling emerald pool.
There is a park office close by at Ban Bang Teao which offers some information although their primary goal is to ensure that the no-hunting zone is enforced and that no harm comes to this naturally beautiful sanctuary.
---
Railay Beach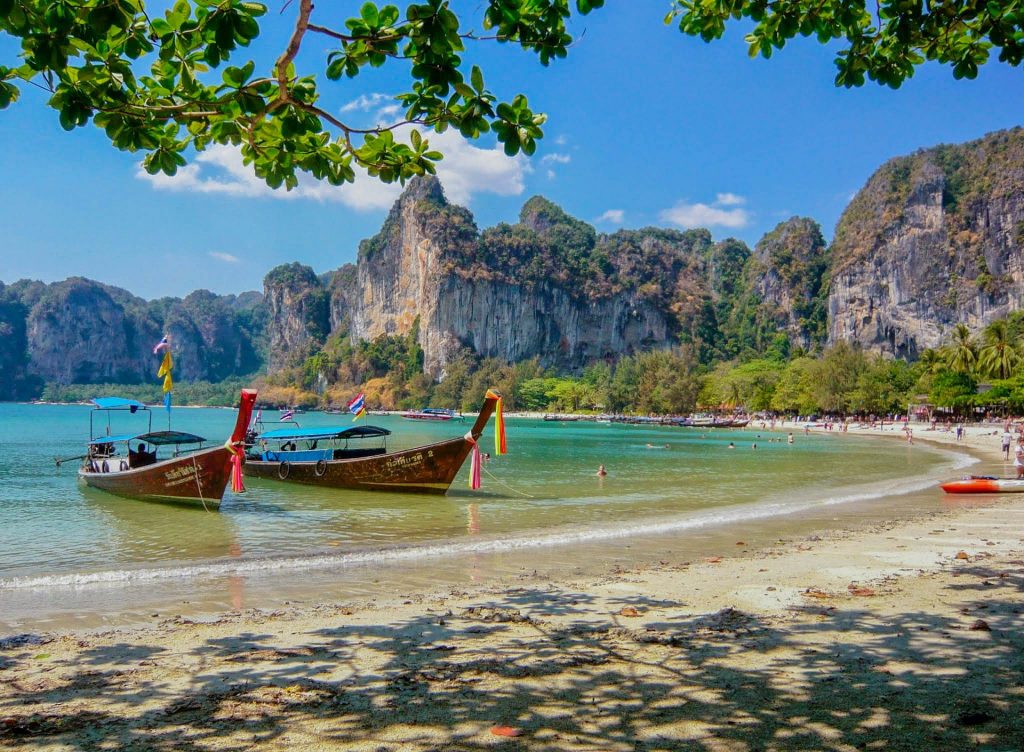 Views down Railay Beach | © Madeleine Deaton / Flickr
A rock climber's paradise, the white sandy shore of Railay Beach is sandwiched between the sparkling waters of the sea and dramatic, craggy mountains. Verdant growth covers the gleaming limestone cliffs, and monkeys frolic among the branches. Many people visit the peninsula, which is only accessible by boat, for adventurous rock climbing, though you'll also feel right at home basking on the beautiful beach and swimming in the clear waters. The area also offers short jungle hikes, kayaking, and boat trips.
---
Ao Nang Beach
Ao Nang Beach | © Aleksandr Zykov / Flickr
One of the liveliest beaches in mainland Krabi, Ao Nang Beach is a popular tourist area. Attracting backpackers, couples, families, and travellers of all ages, it's a great area for enjoying the beach, market, and nightlife. Indeed, Ao Nang boasts some of Krabi's best bars and clubs. The diverse restaurants cater to most tastes, with Thai cuisine and international dishes available, and there are plentiful tour companies to make exploring Krabi a breeze. Charter a longtail boat and set sail for nearby islands like Koh Hong, Koh Poda, and Koh Gai. Accommodation is varied, with something to suit most budgets.
---
Hot Springs Waterfall
Idyllically located under tropical rainforest canopies, the cascading waters of the hot springs offer a unique way of getting right back to nature and leaving the world behind with a rare treat of pure mineral salts in their natural environment. The Jacuzzi type baths are perfect for sharing and can be filled right to the top with warm running water supplied fresh from the thermal springs. The hot springs are unusual in that they cascade forming a waterfall that pours into a stream below.
When you've finished taking a hydrotherapy bath, there are plenty of places to soak up the surroundings including a trip to the crystal or emerald pool or by following a nature trek all located within the same park. The hot springs are easy to find located via a winding boardwalk, to get to the cool stream that the warm waters cascade into, follow the winding path down for a refreshing dip.
---
Night Market Walking Street
Krabi Night Market (Krabi Town Walking Street or Thanon Khon Dern in Thai) is certainly the most important shopping event in Krabi Town. It is held every Friday, Saturday and Sunday from 17:00 to 22:00 in Soi Maharaj 8 and on the 2,000sqm plaza situated right behind Vogue Department Store in downtown Krabi. With something like 50 stalls selling a wide range of products and street food, Krabi Town Night market gathers every weekend an incredibly large crowd for such a small area.
Summing up, Krabi Town Walking Street is a must-visit if you are lucky enough to stay in the area on a weekend; it has become so popular that many hotels provide a shuttle service to this weekly event, just ask at your hotel's front-desk.