Best Things to Do in Krabi, Thailand
Krabi is famous for its scenic view and breathtaking beaches and islands. Its coral reef vistas are also one of the world's most beautiful, which makes the city a great spot for coral diving.
With attractions including hot springs, a wildlife sanctuary, sea caves, flourishing coral reefs and exotic marine life, limestone cliffs that draw rock climbing enthusiasts from around the world, and national parks that include the island paradises of Koh Phi Phi and Koh Lanta, one could easily spend weeks in Krabi and leave yearning for more.
---
Escape From It All At Railay Beaches & Caves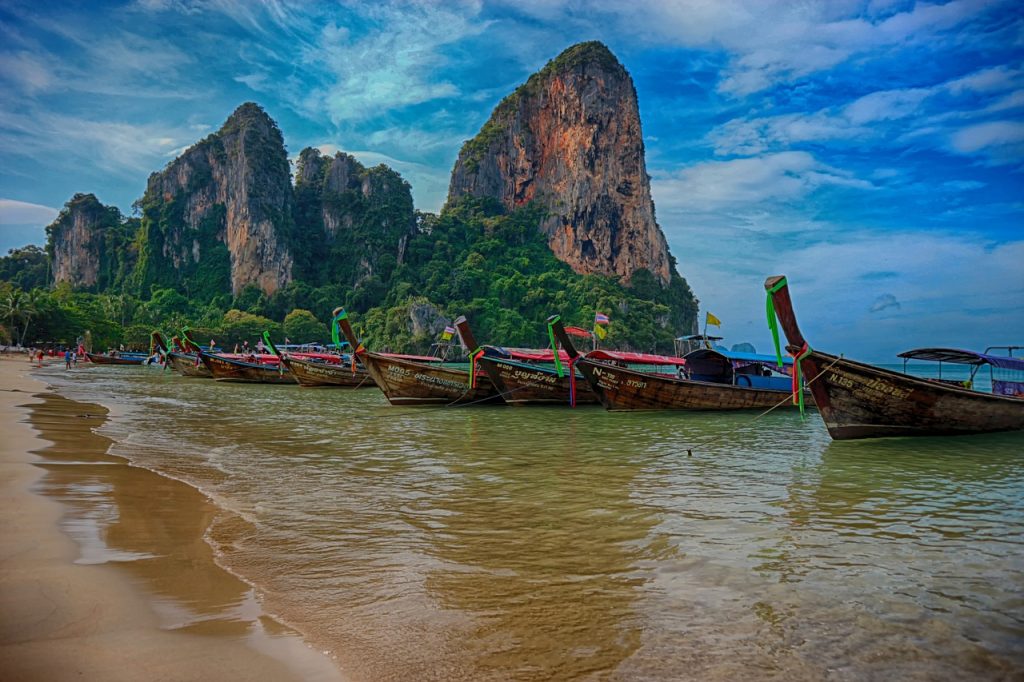 Railay beach is potentially the most attractive beach in Thailand, accessible only by boat due to the large cliffs on each side cutting it off from the mainland. Here you will find stunning white sand, breath taking views and fantastic limestone cliffs. When you arrive at Railay you will not find any roads or cars because of its cut off location, just a few long tail boats and a couple of bars to spend your evenings in. If you want to really feel away from the world this might just be as good as it gets.
---
Khao Khanab Nam – The Landmarks Of Krabi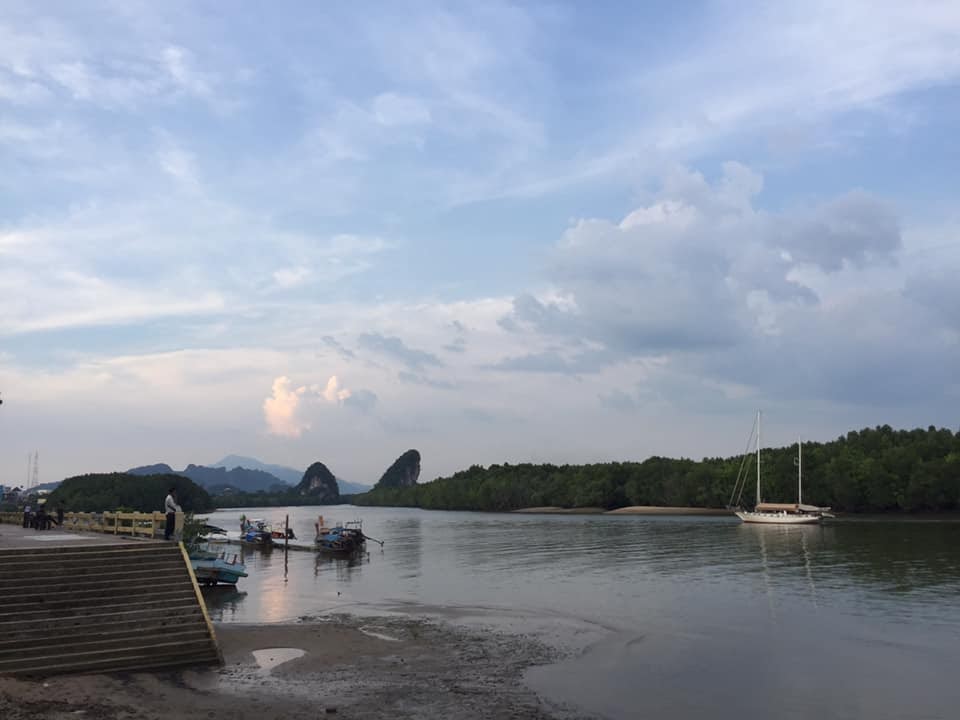 The Khao Khanab Nam Mountains are the most famous landmarks in Krabi, they sit either side of the river and are a real natural wonder. The two mountains sit on top of a large series of caves that have many stalagmites and Stalactites, there are also a large number of human skeletons that could have been from people stranded during a flood. One of the mountains is climbable and offers some excellent photograph opportunities from the top.
---
Step Back In Time At Krabi Town
Unlike many places that you visit on holiday Krabi Town is different, it still receives many tourists but it has not changed itself to pamper to the tourists needs. It has still managed to retain its 'local' feel. The river running though the town is always full of fishing boats bringing in their days catches ready for the restaurant tables. The town has a genuine feel to it with its local bars and eating spots to it is worth visiting for that authentic taste of Thailand.
---
Shop At The Night market
Krabi Town like so many other big owns in Thailand has a night market. This market is open every Friday to Sunday in the evening and is not to be missed. There are over seventy food stalls here as well as lots of local sellers selling souvenirs. Sometimes local school children put on a show as they collect money for their school or another charity. There is one particular stall that is worth a special mention it is the one that sells coconut ice-cream, most markets have a stall selling the same things but this ice-cream is famous throughout the markets for its impeccable taste.
---
Visit Wat Kaew Temple
Wat Kaew is a temple sitting in the middle of Krabi Town, It is not the biggest of temples but has beautiful decorations on the inside walls, they are painted blue and have various Buddhist drawings on them, at one end of the temple is a large golden Buddha which is the focal point of the temple. Outside are various food stalls and vendors looking to sell amulets.
---
Take A Thai Cookery Lesson
Famous throughout the country are the Thai cookery schools and Krabi is no exception to that, every inhabited island in Krabi will have at least one as does Krabi mainland. There is never anywhere better to learn how to cook local food than by the locals themselves. The schools provide all the ingredients and the lessons are run by Thai people that have had years of experience cooking. Whether it is green curry or Pad Thai they will be able to teach you the correct ingredients and techniques to use. Most classes finish with you sitting down to sample your creations.
---
Kayaking
For those looking to do something a little less exhilarating than white water rafting but still wanting to get out on the water might like the option of kayaking. There are several sites in Krabi to go kayaking each with different benefits. Ao Thalane provide mangroves and canyons, Bor Thor has ancient limestone caves and Koh Hong has a lagoon hidden in its center. In each location you will be spoilt to beautiful views and interesting wildlife (maybe even some monkeys) whilst meandering along in your Kayak.
---
See A Different Kind Of Island At Koh Klang
Unlike the other islands that have been mentioned Koh Klang does not have white sandy beaches to admire and lie on, instead it is a simple fishing island where the local people live off the ocean in a simple existence. Inhabited for over 100 years there are now about 5000 people living permanently on the island, most of whom are fishermen or rice farmers. The island will give you are rare insight into truly local life without you having to travel to a remote village, the locals are a Muslim community with traditional values so respectful clothing is needed whilst out on the island. The island is only a five minute boat trip from Krabi town.
---
Hike Your Way To Khao Ngon Nak Viewpoint
About 30 kilometers to the north of Krabi Town is a place called Nong Thale, here is where you begin your hike to the summit, and the trail itself is about four kilometers long and should take about two and a half hours to reach the summit. Khao Ngon Nak translates to mean Dragon Crest Mountain and feels like a real adventure as you slowly make your way uphill. Whilst hiking you will encounter a stream, a waterfall and a couple of viewpoints. The best however is saved for the top where you will get so see the panoramic views around you from 565 meters above sea level.