Krabi Province activities, tickets and more…
---
Phi Phi Islands by Speedboat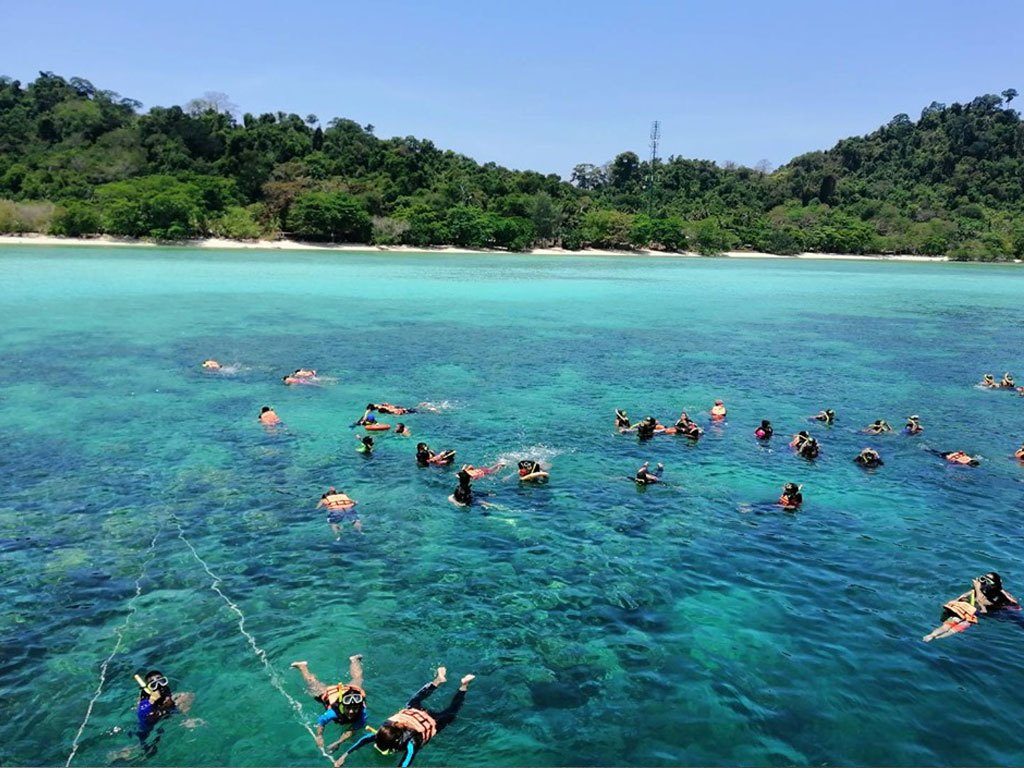 Krabi is fast becoming a destination for international tourists as a more relaxing alternative to Phuket. Spectacular scenery surrounds the area, both inland and offshore, with many of Thailand's finest beaches nearby. Two of the most beautiful and well known islands in the Andaman are the islands of Ko Phi Phi, or simply known as Phi Phi. Traveling by speedboat you'll be able to experience more of these islands for yourself!
This tour offers a full day out to visit Phi Phi, which many regards as the two most beautiful islands in the Andaman Sea. Your 1-hour speedboat transfer to Phi Phi will ensure you spend less time on the water between Krabi and Phi Phi and more time on the island swimming, snorkeling or relaxing – perfect for those who have limited time and would prefer to spend more time exploring the area. Please note that the speedboat will be traveling at faster speeds than the ferry transfer to Phi Phi and one should expect a bumpy ride as the vessel travels across the waves at high speed. You will visit Phi Phi Lai, the smaller of the two islands, and to Maya Bay, which was one of the locations used when making the film 'The Beach'. Then it's off to the bigger island of Phi Phi Don with its magnificent twin crescent beaches. There will be plenty of free time for sunbathing and swimming so remember to pack your towel and swimming costumes!
---
4-Island Tour by Traditional Big Longtail Boat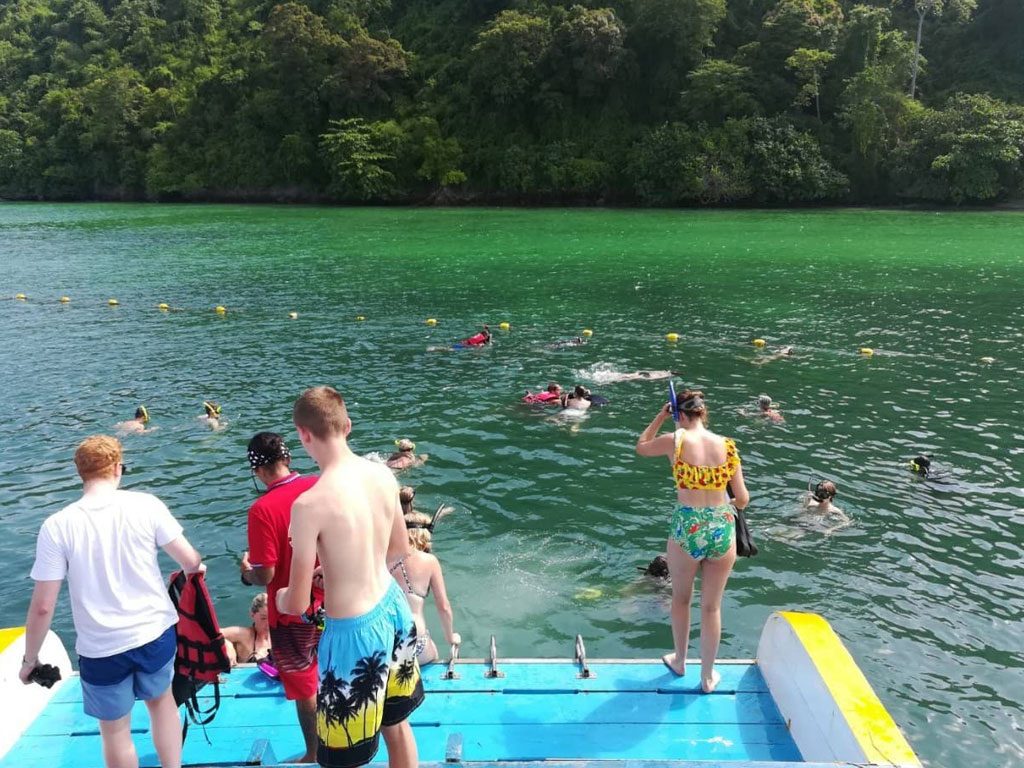 Enjoy Island hopping in a traditional and big longtail boat from Krabi to the separated sea at 4 islands where you can relax on pristine beaches, explore the surroundings, swim in the crystal clear waters of the Andaman Sea and snorkel in the coral reef.
ItineraryThis is a typical itinerary for this productStop At: Nang An Travel & TourEnjoy Island hopping in a traditional and big longtail boat from Krabi to the separated sea at 4 islands where you can relax on pristine beaches, explore the surroundings, swim in the crystal clear waters of the Andaman Sea and snorkel in the coral reef.On this classic Island tour you will travel by traditional longtail boat to the 4 Islands closest to Krabi coast.The tour stops at Phra Nang Cave Beach. A beautiful beach on the Railay peninsula with spectacular limestone cliffs and white coral sand. Enjoy exploring Princess Cave where Princess Goddess is believed to reside and swim in the crystal clear water.Then visit popular Poda Island. Ideal for sunbathing on its white sandy beaches and snorkelling in the coral reef.Feeling hungry. Enjoy a picnic lunch on the beach and admire the beautiful surroundings.Continue onto Chicken Island which is divided into two parts. The island consists of steep cliffs with an amazing rock formation at one end that looks like the head of a chicken. At the other end is a beautiful beach where you can enjoy snorkelling and swimming with colourful reef fish.Feel like a stroll along the beach. We will visit Tup and Mor Islands. Small rocky islets that are connected by a sandbank at low tide, also connecting to Chicken Island. Making it ideal for a walk along the sandy banks whilst admiring the abundance of tropical fish. At high tide it's an excellent spot for snorkeling.
---
Krabi Jungle Tour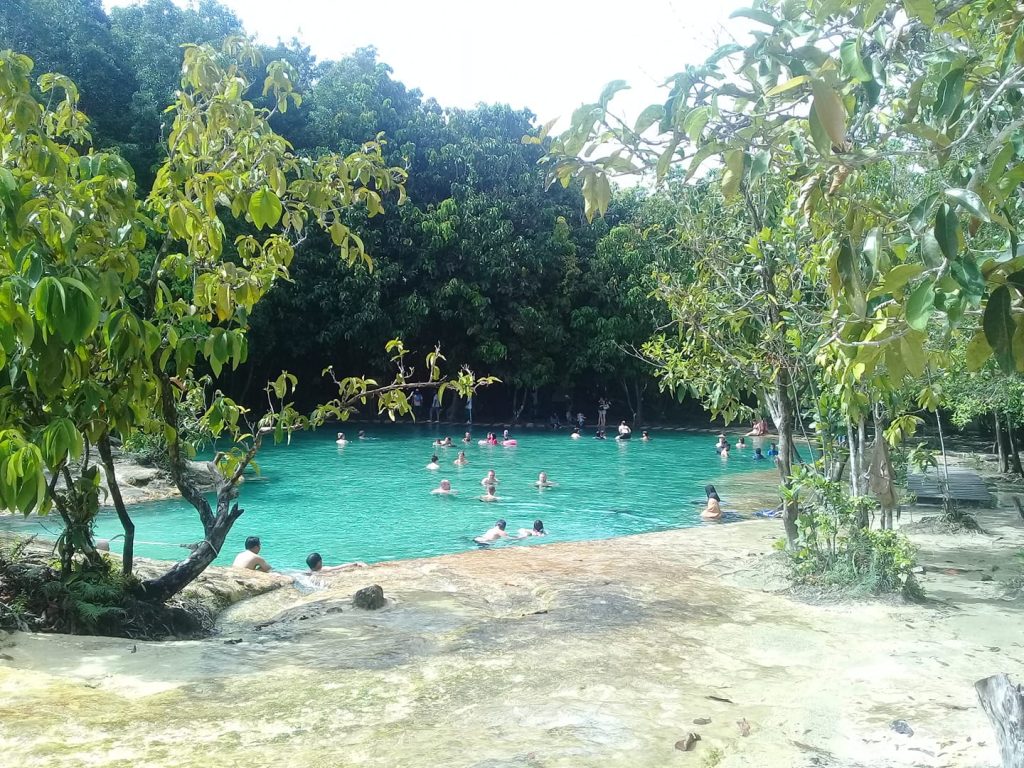 This full-day tour brings you to the 3 mainland attractions of Krabi. Climb the 1,237 steps to the top of Tiger Cave Temple and enjoy impressing views of the Andaman Sea coastline. Check out the natural Hot Spring near Klong Thom and trek to the natural bath of the Crystal Pool with a refreshing swim in the pond.
ItineraryThis is a typical itinerary for this productStop At: Namtok Ron (Hot Spring Waterfall ) – Khlong Thom, Khlong Thom, Krabi ProvinceOn this full-day tour you will see the 3 main attractions of the Krabi jungle: Wat Tahm Suea (the Tiger Cave Temple), Sra Morakot (the Emerald Pool), and the natural hot spring. First you will visit the Tiger Cave Temple, aptly named because of the rock outgrowth nearby resembling a tiger's claw. Located about 3 kilometers from Krabi Town, the temple is known as a center for meditation and its spectacular setting in the Ao Luk Thanu mountain range provides the necessary quiet atmosphere for meditation.Some 250 monks and nuns live in the temple compounds at the moment. The main vihara (sanctum sanctorum) is inside a small shallow limestone cave, where the walls are lined by cells. The area is well lit and very well maintained to preserve the serenity of the environment.Here you can venture up the hills by taking 1 of the 2 passages. One passage takes you up 1,239 steps to the hilltop and the other is only 130 steps up to reach a place where monks live in their small cottages. The commanding view all around is worth taking the strain to climb the hill. The whole area is full of caves and limestone rock formations. Archeologists have found remnants of ancient habitations as old as from the Stone Age. Stone tools, shards of pottery and beads, and idols of clay have all been unearthed which bear testimony to the cultural heritage of the area.You will also trek through the jungle to the Emerald Pool/Crystal Lagoon, a fresh water pool inside the Khao Phra Bang Khram Nature Reserve. The waters of this 120-square-meter pond take on a green hue thanks to an abundance of minerals from the surroundings limestone hills. The crystal clear water is unsuitable for drinking and feels thick due to its high calcium carbonate content which can cause gallstone. Here you can go for a swim to escape the heat of the day and admire the stream, one of the sources of the pool, which tumbles in at one end over rock made smooth by mineral deposits.Another natural wonder you will see on this tour is the natural hot spring in Krabi. Out in the forest about 40 kilometers south of Krabi Town is Klong Thom Waterfall. Though the falls itself is just a cascade tumbling gently but a few meters, it is unique in that the spring water that feeds it bubbles up from the earth at temperature of more than 50 degrees Celsius. It cools a bit as it flows to the cascade and you can swim in the calm stream below for a much cooler bath.
---
Hong Island Tour
One of the most beautiful pristine islands of Krabi, Koh Hong is pure paradise. Travel by speedboat from Krabi and enjoy the day exploring Koh Hong Island and Pelay Beach. Enjoy a picnic lunch, swimming and snorkeling.
Also known as Room Island, Koh Hong Island is a perfect escape whilst on holidays. Wonderful desert island location renowned for its breathtaking beauty, shallow coral reefs and fine, sandy beaches. In the middle of the half-circled shaped island lies the secret lagoon, where you can find yourself at one with nature.
---
Sea Kayaking at Hong Island
This spectacular open water kayaking tour takes you to Hong Island where you will explore the surroundings and venture through the hidden lagoon. Along the way you can take a break to swim and snorkel in the amazing coral reef.
ItineraryThis is a typical itinerary for this productHong Island is one of the most beautiful islands in the Andaman Sea. It is home to a group of islands with an array of towering limestone cliffs, white sandy beaches, crystal clear water and amazing coral reefs.The tour departs from the Sea Kayak pier in Ao Thalane where you will take a longtail boat out to Hong Island. Start your adventure exploring the surroundings of Hong Island in open water by kayak, then venture into the hidden emerald lagoon for a snorkel and a swim.Take a break and have lunch on the boat before the afternoon activities begin.In the afternoon you will have free time to swim in the crystal clear waters, snorkel in the coral reef and do some more kayaking.Before returning to the Sea Kayak pier enjoy a boat trip to some smaller islands around Hong Island. You can sit back and relax whilst taking in the spectacular scenery.
---
Sea Kayaking at Ao Thalane
Discover tropical mangroves, scenic bays, and lush forests by sea kayaking adventure amidst Thailand's most beautiful mangrove forest. You'll learn about the diverse ecosystems that surround Ao Thalane, navigate narrow waterways with a professional guide & uncover hidden beauty in remote Thailand. Observe the rich tropical flora and fauna that includes king fishers, crab-eating macaque monkeys, canyon, lagoon, limestone historical painting, sea gypsies and more! Prepare for a stunning outdoor experience & you'll surely be amazed by the beauty of nature as you paddle around.NOTE: Our Package Included National Park admission fee
This sea kayak adventure in Ao Thalane Bay, Krabi combines fun & exploration! After the hotel pickup at 8.30 AM, travelers depart by kayak from the pier in Ao Thalane Bay. The expert will guide you by kayaking around the mangrove forests. Paddle with a maximum of six people per one professional guide on a small-group day trip designed for novices or those who wish to experience the bay without the crowds. Learn about the area's diverse ecosystems as you get an up-close encounter with nature and kayak around quiet canyons & groves with towering karst formations in the background. Expand your experience either with full or half day tour. A full day tour includes a stop at a beach for delicious Thai lunch and leisure time for swimming in the calm natural environment with a spectacular view!
---
7 Islands Sunset Tour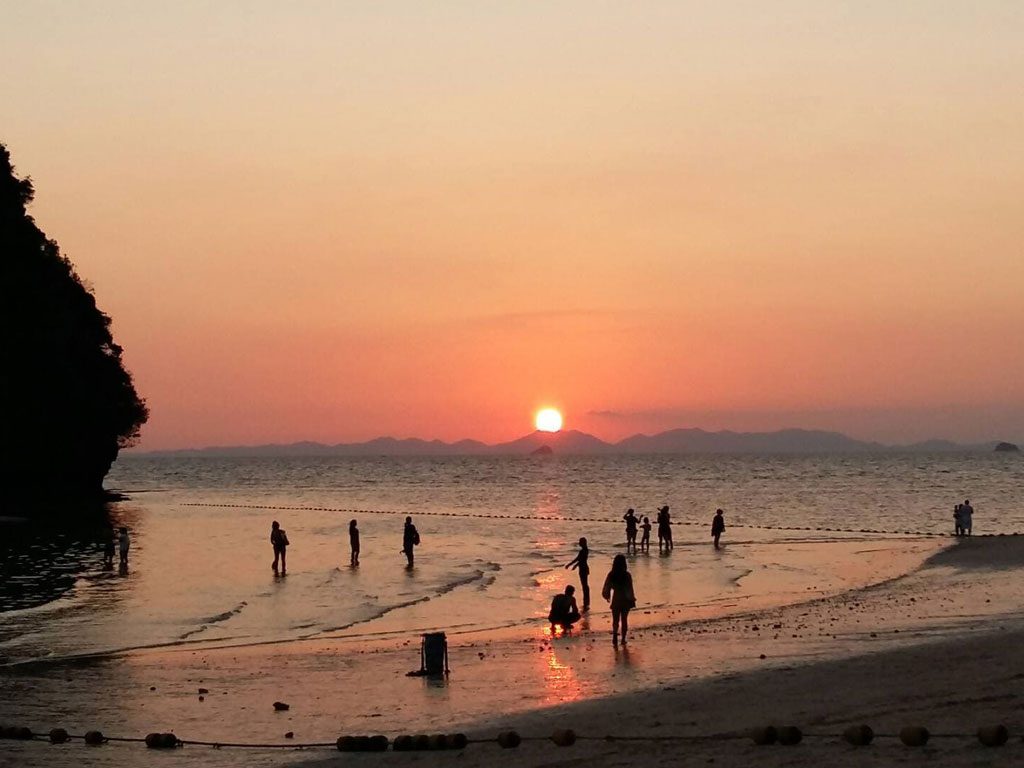 Great all in one tour: see 7 islands around Krabi, enjoy the sunset with a beach BBQ and swim with fluorescent plankton! Take a longtail boat to 7 of its most gorgeous islands for hours of snorkeling, cliff diving, and kicking back on golden shores.  It is a perfect place  for relaxing and taking in the majestic views.
 The tour starts in the afternoon so there is no need for you to rush,Take your time getting ready in the morning before you're picked up. Transfer to boat and set out into the turquoise waters that surround Krabi, making for Poda Island. On the way to the tiny islet, pass the Phranang Cave and Railay Bay for unique photos of their rugged natural landscapes. You would cover Poda Island, famous Chicken Island,Tup Island. On Poda island you can again explore the beautiful reefs and fish below. Try to find Nemo or relax on the white sandy beach.Then the next stop is Taming Island and gear up for a snorkeling adventure swim through stunningly clear water. You can enjoy some beach sports here or just watch the sun go down. Enjoy the BBQ with wide variety of choices of seafood or other dishes on the beach. Watch the sunset in the distance and enjoy your meal! Then it's time for one of the last adventures of the day,swimming with fluorescent plankton. These little creatures light up in the dark, which is nothing less but a fairytale .This once-in-a-lifetime experience , a fantastic close to your day.
---
Krabi Local Discovery tour
Krabi offers one of Thailand's most beautiful coast line, unusual limestone formations which cast extraordinary silhouettes, reaching far out into the blue Sea. Come and Explore  Krabi for your next vacation or just for a marvelous weekend journey.
• Start your tour with a pick from hotel  and visit Tiger Cave temple,it is located about 3 kilometres from Krabi Town. Inside the cave there are what appear to be tiger paw prints in the stone. The surrounding area is covered with large trees hundreds of years old, particularly in the Khiriwong Valley. Mountains are on all sides and there are smallers caves in great number. Aside from being the site of a meditation center, it is also a places of archaeological and historical interest.• Visit Wat Kaew Korawaram .This is one of the biggest and most prestigious Buddhist temples in the region. Perched on top of a hill, Wat Kaew Korawaram overlooks the hustle and bustle of the centre of Krabi.• Next stop is Khao khanap Nam  it is tourist attractions, which is one of the symbols of krabi city.Caused by Krabi's Twin Mountains standing brace on Krabi River in front of city. At Khao Khanap Nam tourist can traveling by rent Long-tailed Boat, which is Local fishing boat.• Visit Black Crab, Eagle sculpture, this are very iconic structure and gives a great photo opportunity to visitors A big sculpture of crab beside of the river with the view of Khao Khanab Nam. and Enjoy shopping at Food Market in Krabi town.• After great day out is time return to the hotel.
---
Snorkel Tour to Koh Rok and Koh Ha 
Cruise by speed boat from Krabi to the tropical islands of Koh Rok & Koh Ha in the south of Koh Lanta. Experience one of the most magnificent snorkeling spots in Southern Thailand with brilliant white-sand beaches, crystal-clear water, expansive coral reefs and metre-long monitor lizards.
ItineraryThis is a typical itinerary for this productGet conveniently picked up from your hotel in Krabi by songthaew (a local passenger vehicle) and head to the starting point of the tour at Wang Sai Pier in Ao Nang. Get some coffee and cruise by speed boat to the Southern Islands of Koh Lanta in less than 90 minutes. If you stay at Railay Beach, we can pickup you from Railay West Beach if you choose the corresponding option.Make the first stop at Koh Ha, which is a tropical island in the west of Koh Lanta and perfect for snorkeling and take on the beautiful surrounding. Koh Haa's shock of white sand beneath its central, protected cerulean lagoon affords a breathtaking backdrop for some of the best snorkeling and diving in the country. The word 'ha' means 'five' in Thai and, as the name suggests, Koh Ha consists of five lovely limestone islands located on the west of Koh Lanta.Continue to two islands in Mu Koh Lanta National Park, Koh Rok Nok and Koh Rok Nai. The small and rugged twin islands are just a couple of hundred meters in distance from each other and are aesthetically similar to Koh Similan and Koh Surin.The speed boat will anchor at Koh Rok Yai which offers beautiful beaches, especially Ao Man Sai Beach. Here you can swim, walk on the beach and dig your bare toes into the super-fine coral sand. There is also a National Park Ranger station on the island together with public tourist facilities such as camping area and toilets as well as a shady dining area where a mini buffet lunch is served by the boat staff.After lunch hop on the speed boat to the channel in between the 2 islands. Here you can snorkel in the open water on hard and soft corals. It all blends together into one impressive reef system that supposedly spans over a square mile in all. You might spot a sea turtle, angelfish, pufferfish and anemones, or even a black-tip shark if you're lucky.Return back to Krabi and take postcard pictures that will create once-in-a-lifetime memories.